Hot Search: Omni Antenna Series LPWA Antenna Series GPS Antenna Series Base Station Antenna Series
全部
全部
产品管理
新闻资讯
介绍内容
企业网点
常见问题
企业视频
企业图册
TV Receiving Antena
---
---
In the cable TV system, the task of the antenna is to receive the open-circuit TV signal or satellite TV signal in the air and send it to the system for processing, transmission and distribution. The antenna that receives open-circuit TV signals in the VHF and UHF bands is called a TV receiving antenna.
The TV receiving antenna is an important part of the wireless TV signal reception and the door for radio waves to enter the cable TV system. There are two types of antennas: passive antennas and active antennas. Active antennas enable the antenna system to achieve high gain and high signal-to-noise ratio reception.
Shenzhen Feiyuxin Electronics Co., Ltd., founded in 2007, is a national high-tech enterprise focusing on R&D, design, production and sales of communication antennas, modules, and application solutions to wireless terminal communication equipment. Shenzhen Henggang Feiyuxin Industrial Park has an independent R&D laboratory with advanced equipment.
Feiyuxin has below three types of tv antennas: ulta-thin tv antena, yagi antenna, magnetic based antenna for your options.
1. New type lightweight ultra-thin tv antenna. The ultra-thin antenna can realize the folding and unfolding of the structure by printing or embedding the circuit and electronic components on the film, and the storage and support mechanism, which can greatly reduce the weight and volume of the structure.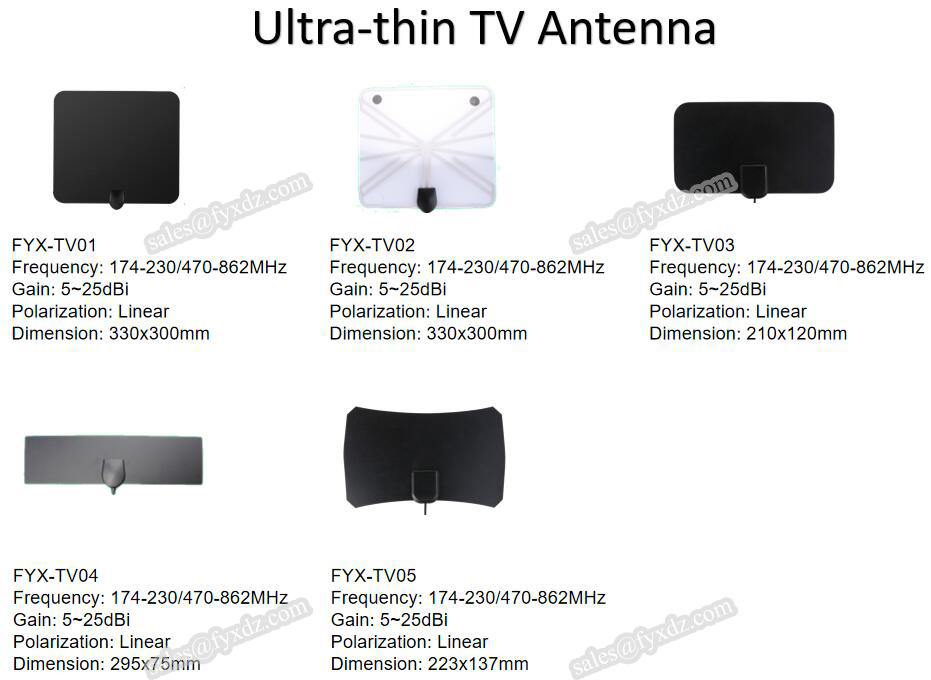 2. Yagi antenna. The Yagi antenna is an end-fire antenna which is composed of an active oscillator (usually a folded oscillator), a passive reflector and several passive directors arranged in parallel.

3. Magnetic based antenna. Fix the entire antenna through the bottom magnet and ensure that the sucker antenna is in conductive contact with the attracted metal.
Contact Person: Effy
Email: sales@fyxdz.com
Mobile: 86 - 13509623256
---
tv,antenna,tv,antena,ultra-thin,tv,antena,yagi,antenna,magnetic,based,antenna,tv,system,tv,signal,satellite,tv,indoor,tv,antena