Hot Search: Omni Antenna Series LPWA Antenna Series GPS Antenna Series Base Station Antenna Series
全部
全部
产品管理
新闻资讯
介绍内容
企业网点
常见问题
企业视频
企业图册
How much do you know about RF connectors?
---
---
The radio frequency coaxial connector (hereinafter referred to as the RF connector) is usually regarded as a component attached to a cable or installed on an instrument as a component for electrical connection or separation of transmission lines.
RF coaxial connector application field
Consumer electronics products generally do not have such high requirements for reliability, because even if the product fails, it may be normal to restart, but military products, medical products, automotive products, aviation products, important industrial equipment, and the above applications, once the product fails, The consequences are serious, so a more reliable coaxial connector must be used in this situation.
BNC is the earliest radio frequency coaxial connector. During the Second World War, due to the urgent needs of the war, the damage of various types of shipboard airborne electronic equipment caused a lot of damage to the US naval and air combat weapons. In order to shorten the repair time, the US Navy The Ministry has gathered some outstanding scientific researchers and engineers, and in a relatively short period of time invented the BNC (Bayonets-Navy Connector), a fast-plugging and disconnecting connector, and became the originator of RF coaxial connectors in the world.
With the development of radar, radio and microwave communications, series of N, C, TNC, etc. were produced. After 1958, miniaturized products such as SMA, SMB, and SMC appeared. In 1964, the US military standard MIL-C-39012 was formulated. "General Specification for Radio Frequency Coaxial Connectors", since then, RFC began to develop in the direction of standardization, serialization, and generalization, so the earliest development started from the military industry department.
Radio frequency connector classification
According to the connection interface structure, it is divided into:
1. Bayonet type (internal bayonet, external bayonet): BNC;

2. Thread type (right-hand thread, left-hand thread): L29 (7/16), N, F, TNC, SMA, SMC, SSMA, SSMB, FME, L9 (1.6/5.6), 7mm, 3.5mm, 2.4mm , K (2.92mm), 1.85mm, 1mm;

3. Push-in (in-line, self-locking): SMB, SSMB, MCX, MMCX, SMP, SMI, BMA, SAA;

4.Flange connection type.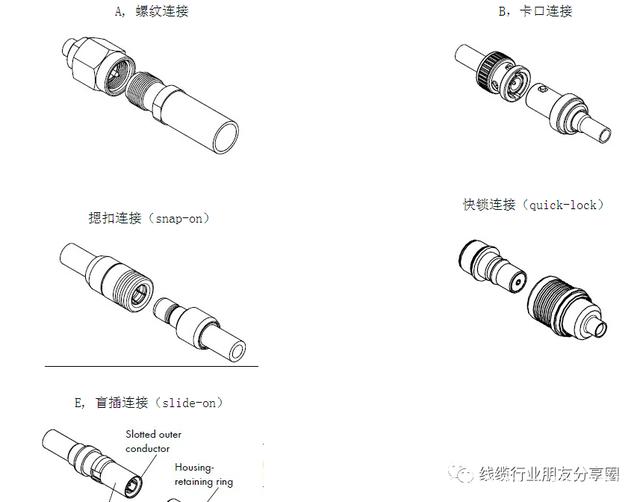 Classified by size:
1. Standard type: UHF, N, 7/16, 7mm;

2. Small type: BNC, TNC;

3. Subminiature type: SMA, SMB, SMC, MCX, BMA, SAA, 3.5mm;

4. Micro type: SSMA, SSMB, MMCX, 2.4mm, K (2.92mm), 1.85mm, 1mm.
Classification by frequency:
There are four categories of audio (Audio), video (Vidio), radio (Radio), and optical fiber (fribre optic).
Audio--below -20KHz
Vidio----30MHz~500MHz below
Radio----500MHz ~300GHz
Fibre-----167THz ~375THz
The connectors used in the Radio band are called RF connectors.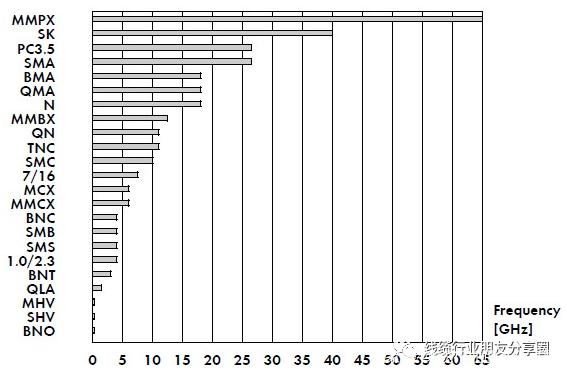 Development Trend

1. Miniaturization: With the miniaturization of the whole system, the volume of RF connectors is getting smaller and smaller, such as SSMB, MMCX and other series, which are very small.

2. High frequency: The United States HP launched RF connectors with a frequency of 110GHz as early as a few years ago. The frequency of domestic general products does not exceed 40GHz. The frequency of flexible cables does not exceed 10GHz, and the frequency of semi-rigid cables does not exceed 20GHz.

3. Multi-function: In addition to the role of a bridge, it also has the functions of signal processing, such as filtering, phase modulation, frequency mixing, attenuation, detection, and amplitude limiting.

4. Low standing wave and low loss: meet the needs of weapon systems and precision measurement.

5. Large capacity and high power: Large capacity and high power mainly meet the development needs of the information highway.

6. Surface mount: Mainly meet the development needs of SMT technology (surface mount technology), and help simplify the wiring structure design of multilayer printed boards.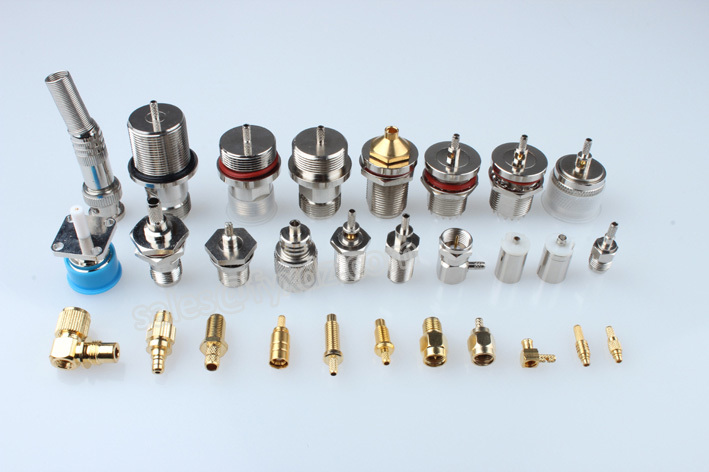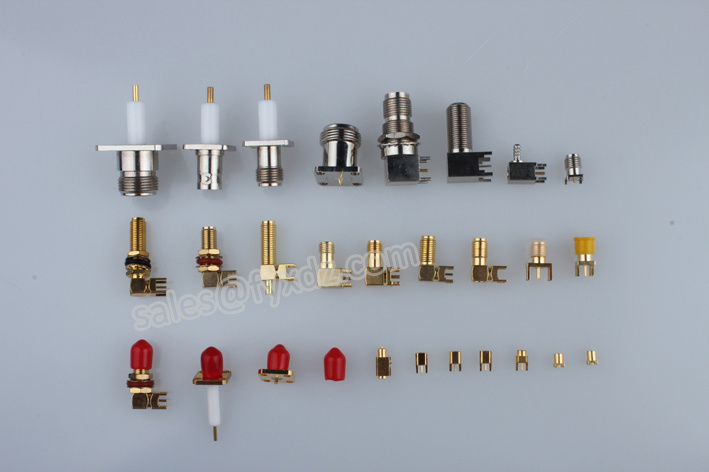 Contact Person: Effy
Email: sales@fyxdz.com
Mobile: 86 - 13509623256
---
rf,connector,coaxial,connector,bnc,tnc,sma,smb,smc,ssmb,mcx,mmcx,flange,connection